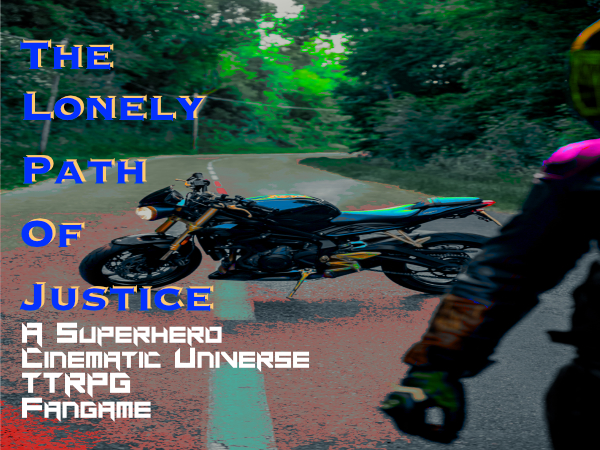 The Lonely Path Of Justice
The Superhero Cinematic Universe TTRPG is a series of stand-alone one-shots that can be linked together to form a larger narrative, created by W.H. Arthur.
THE LONELY PATH OF JUSTICE is a Kamen Rider-inspired fangame/hack using the SCU TTRPG framework. It is designed to be played as a stand-alone one-shot. Or, you can connect it directly to W.H. Arthur's The Gadgeteer.

In The Lonely Path Of Justice, you tell the story of a transforming hero and their never-ending battle to stop malevolent forces from taking over the world. To play this game, you will need 3-6 players including a master of ceremonies (MC), at least 6 six-sided dice (or a digital dice roller), a way to take notes, and 2-4 hours.
In the metropolis of City A, a collection of malevolent individuals have spread their influence throughout the general population. They have tricked people to join their cause, amassed a small army of supporters, experimented to create monsters to fight for their cause, and now seek to collect the final pieces of power needed to begin their hostile worldwide takeover. Only The Traveler and their allies have what it takes to beat them back and save City A!
Much of the rules text is ripped directly from W.H. Arthur's other games, as is the layout, as I hope to let this game sit comfortably amongst the other SCU TTRPGs if you decide to include this one in your play sessions! These games have a specific framework and system in place, so I want to stick closely to it.
The file contains an 11-page PDF.
If the PDF contains any errors, i will correct them and upload updated versions ASAP.
You can also check out this game's sequel, SAVIOR FROM THE SKY!
Download
Click download now to get access to the following files:
The Lonely Path Of Justice v1.0.pdf
270 kB